The Firing of the Mountains
(excerpts from Grand Lake in the Olden Days by Mary Lyons Cairns)
Matters were growing worse for the Ute Indians who had been moved out of Middle Park to the White River Reservation in 1870. A severe drought had depleted the game in Middle Park during the early 70s and the government was not delivering promised supplies to the reservation.
George A. Hodgson of Greeley, Colorado, who was in Hot Sulphur Springs with a party of government surveyors in 1881, told of the fires set by Colorow and his tribesmen in 1878 and '79, as given to him by the settlers:
Colorow conceived a plan whereby he hoped to outwit the hunters who were ruthlessly killing the game, ad thus he could save it for his own people. His plan was huge in scope, but to him it seemed a simple one to carry out. He would place hundreds of his braves in the dry grass among the vast stretches of natural meadows, and in the dry timber, where they would set raging fires that nothing could quench. He would wait until the wind was blowing in the right direction before he gave the signal; then the great mass of fire, driven toward the White River country, would send the wild game tearing toward the reservation to belong to his people and their children forever.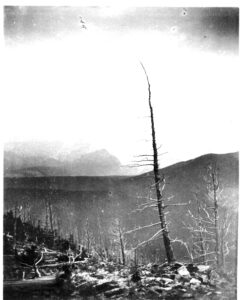 Summer rains were over and all the forests and meadows were dry as tinder. His braves would set fire to the tall grass and it would spread to the timber and sagebrush. Colorow himself set off the signal fire, far up in the Medicine Bow range. With a whoop of exultation he greeted the flames as they swept skyward. Simultaneously hundreds of other fires sprang up until the whole region was a horrible inferno.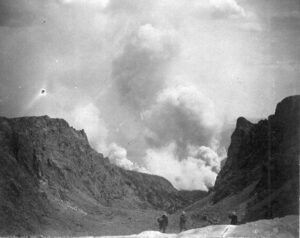 The wind continued to blow in the right direction. Colorow gloated over his triumph! Soon the great herds would be in the White River reservation and he would never again be worried over a food supply.
Suddenly the wind changed. Unmistakably it was blowing north into Wyoming, and east across the mountains to the plains. He saw maddened beasts by the thousands change their course and go tearing away at the head of the flames. They no longer headed toward his people. His plan had failed utterly. A saddened and crushed Colorow gathered his braves and returned disconsolately to the reservation.
References to this great fire are found in "The History of Boulder and Clear Creek Valleys".
"During the summer months numerous depredations were reported as having been committed by the White River Utes while off their reservation. Forest fires were started by them in every direction, burning away millions of acres of timber and frightening the game out of the country.
Estimated value of pine timber destroyed in and about North, Middle, and Egeria Parks is ten million dollars with the destruction of 100,000 acres of grass."
(Pictures taken in 1880)