Eslick Store and Office
Your Historical Society is working so very hard to activate the Smith Eslick Cottage Camp, at the corner of Vine Street and Lake Avenue, as a community historical and events site. We envision telling stories of our town's vibrant history as visitors and all members of our community gather for special presentations and fun. We aren't certain what this special place will look like, but it will center primarily on the grassy landscape behind the Cottage Court Museum. There will perhaps be a pergola or pavilion, picnic tables and benches, and a fire pit so we can share s'mores and stories with the kids coming off the tubing hill!

Key to this vision is a Visitor Welcome Center, a place where people can come for information and tours of the Cottage Court Museum. It must have a public restroom, a small gift shop and space for the amazing Cottage Camp tour guides. We have the perfect place for all of this to happen. It's a second iconic building from the original Smith Eslick auto-tourist lodging complex. It is called the Eslick Store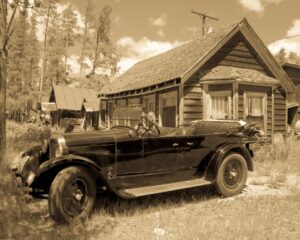 and Office, and is located along the Alleyway near the Cottage Court. It was built by Loren Eslick, the youngest grandson of the family in town, and was originally located just at the corner of Vine Street and Grand Avenue. Loren was apparently something of an artist, as he took a simple "cabin style" building, added a three-panel bay window, four more windows all in a row along one side of the building, all designed to capture the attention of passing motorists. The family moved the building to its present location in 1957, and it has been suffering from years of weathering, and from being on an insubstantial timber and rock base. Loren intended for his building to be the visitor check-in and mercantile for the family's auto-tourist lodging business, something quite like it could soon become again.


Your Historical Society is pleased to announce that we will begin stabilizing the Eslick Store building on a permanent foundation and restoring its exterior. This will be funded in part by a generous grant from
History Colorado – State Historical Fund. This grant, $196,505, and donations from incredibly supportive members and friends of history, will allow work to begin in about late Spring, 2023. We're grateful and excited, but we are also very aware that there is much more to do: excavating for and installing utilities, rehabilitating the walls, floors and ceiling of the interior, outfitting an ADA public restroom, and more.

It's a lot, and we would sincerely welcome your support as we volunteers continue our work. Meanwhile, we'll keep you apprised of our progress. Stop by once the snow melts, and learn more about this unique and steadily evolving project. It will become a wonderful asset to our community, a place to learn and celebrate our history and our community.