What's New at the Grand Lake Area Historical Society
970-627-8324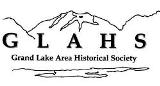 historygrandlake@gmail.com      www.grandlakehistory.org

P.O. Box 656 Grand Lake, CO  80447   Facebook:Smith-Eslick Cottage Court
We Could Use Some Help
April 20th, Friday, 10:00 am to 12:30
2018 Children's Fair at Granby Elementary School Gym
Three capable, but extremely busy, volunteers worked last year's Children's Fair, and had fun, fun, fun. But, sure could've used some more help. Please join us this time. We'll help children with take-home crafts and other historical offerings. Kids love it and so do we! Give us a call. No experience… just energy… needed for this! Thanks. 970-627-8324
A Reminder!
March 17th
Kauffman House Museum Open    1:00 pm – 4:00
It's warm!
Tours and treats included in admission. Fun for All!
Adults $5, Free to Children 12 and Younger and GLAHS Members
… and Coming Later
*Kauffman House opens for the season May 26th, daily 11:00 am – 5:00 pm.                                                                                                                         *GLAHS Annual Meeting and Community Presentation  June 13th  7:00 pm GL Community House – a history of boats and boating in Grand Lake *Super Stars for the Cottage Camp    June 22nd… more details later                                                                                                                                                    *Victorian Tea at the Rapids   July 17th, 2:00 – 4, $25.  Please reserve.
Miraculous Garage
You've got to love an automatic garage door when the wind is roaring and there's a bit of snow in the air. Our Smith Eslick Cottage Court had no doors on the carports, but each space had a roof, and was right next to where the owner slept. What luxurious security in 1915! We're busy preparing some basic interpretive signage, funded in part with a grant from History Colorado – State Historical Fund, and additional support from our wonderful community. We'll be able to share design plans in this coming summer, and plan to have the completed signage installed by spring of 2019.
There's lots planned at the Cottage Camp site, but so very much has already been accomplished – purchase of land, moving the historic one-of-a-kind Cottage Court to prevent its demolition, Master Planning for the site, restoration of the roof, placement of the Court on its first-ever permanent foundation, restoration of the entire Cottage Court to its 1915-1930s condition, interpretive signs at the entrance and Cairns #3 Ditch remnant, beginning development of exhibits, ADA accessible pathways, a rehabilitated Model A display and more.
We'll try hard to keep you apprised of every step along the way to making the Smith Eslick Cottage Camp an exciting and significant historical asset for our community, and THANK YOU to all who are participating in planning and to all who have donated to make this possible!
Grand Lake and the Smith Eslick Cottage Court were featured in Colorado Experience:  Mountain Escapes shown on PBS February 1st. You can still watch the entire show online: http://www.rmpbs.org/coloradoexperience/home/  Don't miss this! We're excited and proud to have been part of this very interesting documentary presentation.
Cottage Camp Update
Folks from History Colorado-State Historical Fund will be in Town on February 22nd to discuss our upcoming exhibits at the Cottage Court. This first exhibit installation is planned for this summer, and is funded in part by History Colorado-State Historical Fund, for which we are very appreciative. We're also planning to install ADA accessible paths at the Cottage Court in summer – we'll be busy!
 ​Thank You Donors!
The Board of Directors wishes to express sincere thanks and appreciation for donations in support of the work of the Grand Lake Area Historical Society. Recent generous donors are Mandy Hanifen, and Glennette and Don Kuhs. Special thanks to Marianne and Ed Marvez in memory of Stoddard White, and Deb Mathieu. Your support is invaluable.
Newest Board Member
Sandia Bruton has joined the GLAHS Board of Directors. "Sandy" is a longtime community member who was a docent at the Kauffman House with Patience Kemp and is again, with husband Bill. Sandia has a deep love of our community and its history, and we are thrilled to have her on our hard working board!
We'd Love to Share…
We have a lot of wonderful history stories to tell. If you are part of a group that would like to have us present in PowerPoint or other format… subject of your choice, or one we have already prepared…give us a call or jot an email note. Having a party at your home? Call us! Need a topic for your organization's meeting? Call us! Hope to hear from you!
Thank You Donors!
The Board of Directors wishes to express sincere thanks and appreciation for donations in support of the work of the Grand Lake Area Historical Society. Recent generous donors are Steve and Sue Armstead, Sally and Ted Bertoli, Julie and Joe Cunningham in honor of Jane Binford, William Daniel, Dorothy Kuster, Carla Shankle, and Jane Stotts. Your support is invaluable.
We welcome renewing members Sally and Ted Bertoli, George Gill, Avis Gray and the Cascades Bookshop, Mitch and Rebecca Kauffman, Gary Puzo, and Benefactor Members Vicki Vaniman and Carol and Mike Quirk. Thanks for being on the team!
A copy of the 2016 Annual Report can be read by clicking 
Complete Annual Report Text, 2016
Making it New Again
Spring Forward
Snow or no snow, it's a very busy spring at the Kauffman House and Smith Eslick Cottage Camp.
 Kathy Means and her team are working to install a variety of exhibits in the Gallery area of the Kauffman House Museum. Kathy's calling it all "A Walk Back in Time", and it will feature some early history and some more recent, including an exhibit honoring the Rocky Mountain Repertory Theatre's fiftieth anniversary. It's sure to be lovely, entertaining and informative, so plan to come take a long look! The Kauffman House will open for the season 11:00 am – 5:00 pm on May 27th. Adults $5, Free to Children 12 and Younger, GLAHS Members and Active Military.
 Kathy can use help! And we would so very much welcome YOU as a docent guide at the museum! Just takes a few hours of your time and you will be supporting your community and having fun while you do it! Give us a call at 970/627-8324 and leave a message, or email historygrandlake@gmail.com.
What is this??!
It was the El Navajo Lodge, a prominent accommodation for travelers back in the day. Join us at 7:00 pm on June 14th at the Community House in Town Park! We'll have a very special presenter, artist Nancy Zoller, whose family owned the El Navajo. Come find out where it was… probably a surprise for most… and hear some great stories and great history. It's all FREE; we'll serve treats and catch you up on what's been going on at the Historical Society. After the presentation, we invite you to stay for the GLAHS Annual Meeting.
 Stop by the Smith Eslick Cottage Court when you have a chance. It's in process of being restored by Maple Street Builders, Architect Dennis Humphries and the Historical Society team. Can hardly wait!
Some Other Upcoming Dates to Plan…
June 24th   beginning at 5:30 pm, it's Souper Stars Goes Western! This great party to benefit the Cottage Camp Campaign is sure to be a special hoot this time, so do mark your calendar. Much more information to follow!
July 19th  2:00 pm – 4:00, it's the delightful Victorian Tea at the Historic Rapids Lodge.
Give us a call at 970/627-8324 to reserve your place, or shoot us an email. Always yummy, lovely and memorable!
 Thank You for Your Invaluable Support
We welcome new and renewing members Frank Appelhans with Grand Lake Plumbing & Heating, Don and Toni Campbell, Ken and Linda Fucik, Maria John-Detty, Mary Beth Lagerborg with Retelling, Jenny and Richard Schliep with Sloopy's Grill, Linda and Robert Spaet, Jane Tollett, and Benefactor Member Carolyn Alcorn. Thanks for being on the team!
Making It New Again
Your Grand Lake Area Historical Society, and especially the folks on the Cottage Camp Planning Committee, are working very hard to bring engaging historical exhibits to the Smith Eslick Cottage court. We are happy to announce that the Rotary Club of Grand Lake has donated $500 towards purchase of a refurbished Model A to be displayed in one of the Cottage Court carports. That's a welcome and generous start towards the $3,100 we'll need to purchase the automobile from its local owner. This antique car has a seized engine, which is perfect as people can look under the hood, sit on the seats, pretend to drive, but never go anywhere. It's owned and will be refurbished in County, saving us many dollars in shipping costs. We hope, sincerely hope you can add to the Rotary's donation and move us closer to getting this one-of-a-kind beauty. Can't let this one get away!
Clyde Eslick loved his cars, and apparently really enjoyed driving them! The Middle Park Times newspaper reported on many of his auto adventures… big news back then:
May 31, 1918   Middle Park Times: Through J.P.Schulz, the Eslick boys have purchased a Ford runabout.
Grand Lake Items: George Nair and Clyde Eslick returned from Denver Saturday.
Grand Lake News: Mrs. Georgia Eslick and son, Mr. Clyde Eslick, and little Hazel Masterson, went to  Denver and Fort Collins Wednesday and returned home Sunday.
Grand Lake News: Mrs. Susan Johnston made a trip to Denver with Clyde Eslick during the week.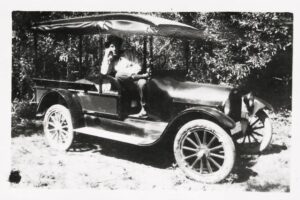 Please give us a call if you'd like more information and, again, we would be very grateful for your help with this project. GLAHS-Cottage Court, P.O. Box 656, Grand Lake 80447
We'll look for you at upcoming Cottage Camp events so we can introduce you to the crowd!
Planning and setting up exhibits at the Kauffman House is a huge task, but it's made so much easier with lots of helping hands. If you are one of the folks who watches HGTV and thinks "I wish I could do what Joanna Gaines does when she displays all those antiques", have we got a fun deal for you! Call Kathy Means 970/627-8324 and come on over to help set up the next exciting exhibits in the Gallery of the Kauffman House Museum.
Please give us a call if you'd like more information and, again, we would be very grateful for your help with this project. GLAHS-Cottage Court, P.O. Box 656, Grand Lake 80447
We'll look for you at upcoming Cottage Camp events so we can introduce you to the crowd!
A Quick Reminder
The new email address for the GLAHS is historygrandlake@gmail.com. We can no longer receive emails at our old address, glhistory@rkymtnhi.com, so please don't try to contact us there!
It's official…
Anne McCleave,State Historical Fund Preservation Specialist for the Northwest Region, has delivered a lovely brass plaque showing that the Smith Eslick Cottage Court is listed on the National Register of Historic Places.  Here are a happy Jim Cervenka, Historical Society President, with Elin Capps and Anne. We'll soon attach the plaque, and are of course continuing the restoration of the Cottage Court.
Your Historical Society often receives donations that seem a bit unusual, but always have an interesting story to tell. Here's a couple of recent additions!
If Only a Building Could Talk…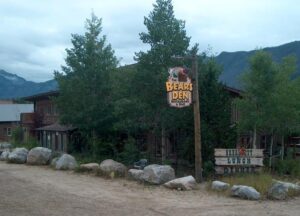 Some years ago, Mac Ruske and Martha Boehner shared what they remembered about the building in this photo. Mac said his shift boss on the Adams Tunnel project was Swede Sandstrom. When he and his wife Adele divorced, Adele and her friend Vannie Maker logged and built (with some unknown helpers) Adele's home, shown in the photo. Mac said they used a lot of free stuff. Martha said it was later sold to Jo Anne (McLaren) Warner, wife of Jim Warner, son Tom, and continued as a home. At sometime, Martha said, it became a furniture store operated by the Clarks and their daughter Carol.
Then in 1965 it sold to Mr. and Mrs. Patty who operated it as the Patty's Mountain Inn. Mac remembered Lynn Cox and her son Kevin telling him that fried chicken "the size of turkeys" were on the menu. Mr. Patty had a wind-up toy collection that he liked to line up parade style and send out to entertain. Kevin thought the best part were the wind-up, clacking dentures.
Then in 1981 it was sold to Dave McDougal, and operated as Dougal's Mountain Inn. "Dougal" hosted the town's first trivia contest as part of the Winter Carnival activities in about 1985, and would hire energetic young Pine Cone Theater actors as waiters. When Dave McDougal went to Denver and opened Dougal's Catering, the restaurant was sold to Michelle Marcello, and operated as the Mountain Inn. Later, it sold to Benton and Vickie Johnson, and was operated as Bear's Den.
With all these years of history, there must have been so many more stories to tell, if only the building could talk…
Meanwhile…
Does anyone remember this "Grand County –opoly" game, a "real estate trading game" that teased you could "own your own home town"? The GLAHS collection's copy belonged to Hazel Mosely.  Every "property card" is an ad for a local business. Perhaps you can figure out the game's exact publication date by remembering when the businesses were active in town. Take a look at the game board, and let us know what you remember about those places!
Please Join Us…
Your Grand Lake Area Historical Society needs you! We are a productive, exciting, very, very busy group of volunteers with so, so much to do! If you can spend a little time and lend us a hand, we'd be most grateful. We're especially needing folks who can handle small building maintenance stuff, or folks to help in our crazy-busy office scanning pictures or recording historical information at the computer. How about learning how to update a web page? Would you be interested in helping us "tweet" or "snap-chat" or otherwise update our social media presence?  We'll offer training with any task you choose, and we're eager to hear your ideas about what would be good for the team. Give us a call at 970/627-8324 or jet us a return e-mail. Thanks!
… and Just 'Cause It's Pretty
Photo from GLAHS Board member Steve Batty: Fall sunrise seen from Point Park
What a Makeover!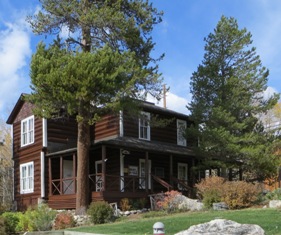 The Kauffman House Museum has received a lovely exterior restoration, with log damage repaired or replaced, all the icky chinking between logs removed and replaced with authentic and substantial new daub, and a fresh coat of stain to make it glow. Huge thanks to the Colorado State Historical Fund/History Colorado for funding and patiently guiding us through this all-important project, and to everyone who donated grant matching funds. Thanks too to the crew: Dan Schneller/DSD Construction for log repair, Wes Bishop/Stonehinge Masonry for chinking, and Jim Peterson/Grand Design Painting for the lovely stain work.   The trim has been painted during the summer of 2016 by Jim Peterson.  Next we will continue to paint the Gallery addition, probably during the summer of 2017.  We need assistance now and then with lots of other smaller projects around the place. If you are handy with such things, please let us know. Thanks!
Cottage Camp is Looking Good
 What a great summer at the Smith Eslick Cottage Camp. Lots of great fun, much progress, and the full restoration of the Cottage Court will begin in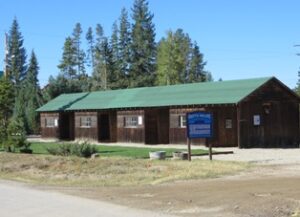 Spring, 2016. Stay tuned! The Cottage Camp Committees will meet again soon. If you'd like to participate in guiding the future of this new and very exciting museum site, please let us know! There's work to be done with exhibits, further restorations, activities and events, grounds work. We're a busy bunch, and it's fun and fulfilling work.