What's New at the Grand Lake Area Historical Society
970-627-8324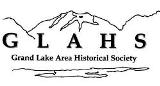 historygrandlake@gmail.com      www.grandlakehistory.org

P.O. Box 656 Grand Lake, CO  80447   Facebook:Smith-Eslick Cottage Court
Making and Tinkering
April 20th, Friday, 10:00 am to 12:30
2018 Children's Fair at Granby Elementary School Gym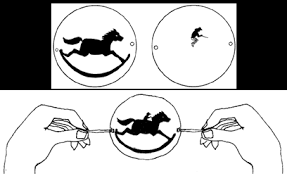 Three capable, but extremely busy, volunteers worked last year's Children's Fair, and had fun, fun, fun. This year's event promises to be even "funner" as this year's theme is "making and tinkering". We'll help kids make their own Victorian-style thaumatropes and other crafts, and of course bring along the rotary phone, nut cracker and other exciting "tinkering" historical items that were all the rage last year!  Please join us this time. We need your help, and you'll feel the love with these wonderful kiddos! Give us a call. No experience… just energy… needed for this! Thank you very much. 970-627-8324
More Tinkering… Please Note Annual Meeting Date Change
Ride the Rockies is coming to Town on the same day we had planned to hold our Annual Membership Meeting and a terrific presentation of boats and boating history in and on Grand Lake, so we've got a date change. Presenter Ken Fucik, Rocky Mountain Boat School, will be at the Grand Lake Community House in Town Park at 7:00 pm, June 20th, and you don't want to miss this! It's free, with treats served. Members are encouraged to stay after the presentation for the GLAHS Annual Meeting.
A Favorite Boat Story
Early resident Craig Adams spoke to the Grand Lake Rotary in 1955, and shared a remarkable boating event from his youth. We love to tell this story to groups of children… it's a funny, cautionary tale.  Enjoy!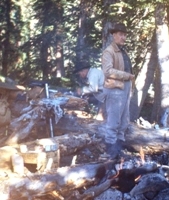 Craig Adams Chats With Grand Lake Rotary Club 1955
(transcribed from original tape recording)
My brother and I were running this store (Joe Wescott's store on the Lake's west side). One evening we closed the store, and got one of these little Mullins steel boats and went fishing. And we drifted over toward the east shore, and the fishing was pretty good, and the wind was coming up a little, and we decided like some of these crazy people do, that we could do better and we stood up. So we stood up in this little tin boat, and doing our fishing with our backs to the wind, drifting towards the east shore. All of a sudden, one of these Grand Lake puffs hit us on the back, and we pushed forward and both stepped on the side of the boat at the same time, went down far enough to start taking water. Wasn't anything we could do, we couldn't keep it from doing that, so we just stood up and looked at each other as the boat kept on going down, down, down, 'til finally it got about this deep, and my brother said, "Well, I guess we have to swim." I said okay, so we started. Hadn't anymore than started and he tells me, "Well, you're smaller than I am. You better go back and hang on the boat rope carry you, and I'll swim on in." So he started, and I got on the boat, and I watched him. I hollered to him, I said, "Do you think you can make it?" He said, "I think to can." So I waited him out, and he was still getting a little closer. I said, "Do you think you can make it?" He said, "I think to can." So he swam just as long as he could, he told me afterwards, and then let down. He said, "If I let down and couldn't hit bottom, I was through." But luckily he hit bottom. And by that time, the wind had drifted me in. There wasn't anybody living on that side, our folks hadn't come up, except the Harmons. Their home was over about where the tunnel entrance is. So we were cold and shivering, scared too. We just left the boat there, and went on over to Harmons' house late in the evening. Nobody home; they were over town. So we walked around and couldn't get in the front door; finally found a window open in the back, so we jimmied the window open and got in, built a fire in the stove, started gettin' warm. Then we took a lamp and started walking through the house to find some blankets to put around us. 'Bout that time, Mr. and Mrs. Harmon, who always rowed doubles, started for home. They saw this light going through the house; they thought somebody was stealing them out of their house and home. And they pretty near rowed themselves to death to get home. So instead of coming to the front door, Mr. Harmon went around the back and walked up to the window, and he says, "Hellooo." We said, "Hello. This is Craig and Carleton". So that relieved him, and he came on in and they gave us some tea and coffee and dinner. Our clothes were all wet, said, "Well, there's nothing you boys can do but stay here all night, we'll dry your clothes out, and you can go on back to the store tomorrow morning. So, we did that, of course a little late getting off the next morning. Somebody, apparently, had gone to the store to get some bread or coffee for breakfast, and the store wasn't open. Somebody else came along, said, "Yeah, I saw the boys over there fishing on the east side, Craig and (unintelligible) were standing up in the boat. So they thought we were at the bottom of the lake. We finally got dressed, warm, started home and we met three boatloads of people out in the middle of the lake, coming over with ropes and dragging hooks to fish us out of the bottom of the lake. I don't know
whether they were glad or sorry.
A Reminder!
*Kauffman House opens for the season May 26th, daily 11:00 am – 5:00 pm.
*GLAHS Annual Meeting and Community Presentation  June 20th , 7:00 pm, Grand Lake Community House  7:00 pm GL Community House – a history of boats and boating in Grand Lake
*Super Stars for the Cottage Camp    June 22nd at artist Donna Lyons' Onahu Lodge. Please reserve, 970-627-8324 or by email. Tight Like That. Hearty food and Fun! All proceeds support the Smith Eslick Cottage Camp Campaign.
*Victorian Tea at the Rapids   July 17th, 2:00 – 4, $25.  Limited seating, so please reserve, 970-627-8324 or by email. Your reservation includes a glass of bubbly at this year's event. All proceeds support the Smith Eslick Cottage Camp Campaign.
Grand Quilt Trail
You've noticed the many "quilt squares" on display on buildings around the County. The one at the Kauffman House is a "Lady of the Lake" pattern. There's now a booklet guide to all the quilt patterns which you can download from the Grand County Historical Association website, http://grandcountyhistory.org/.
Thank You Donors!
The Board of Directors wishes to express sincere thanks and appreciation for donations in support of the work of the Grand Lake Area Historical Society. Recent generous donors are Carolyn Alcorn, Mandy Hanifen, and Jeff and Barbara Metzger in memory of Emile and Richarde Burgermeister. Your support is invaluable.
Pledging is an "easy" way to make a real impact on the work of the Grand Lake Area Historical Society. You decide the amount and when you wish to donate, and we'll gratefully remind you each time your pledge payment is due. Major grantors are impressed by this show of continuing support, and we at GLAHS can more easily plan for future projects. Please do contact us if you would like to plan donations through a continuing pledge. You may also download and send us the Contribution Form attached to this message, and THANKS!
We welcome renewing members Samantha Bruegger with the Grand Lake Chamber, Elin and Jim Capps, Liza and Jim Cervenka, Dave Freeman with Sagebrush BBQ & Grill, Ken and Linda Fucik, Maria John-Detty, Tim and Marilou Randall with Never Summer Mountain Products, Frank Reardon with Grand Realty, Jenny and Richard Schliep with Sloopy's Grill, Brenda Schoenherr and John Linton with Mountain Food Market, Steven R. Warden, PC and Benefactor Members Carolyn Alcorn and Ann and Canton O'Donnell. Thanks for being on the team!
Miraculous Garage
You've got to love an automatic garage door when the wind is roaring and there's a bit of snow in the air. Our Smith Eslick Cottage Court had no doors on the carports, but each space had a roof, and was right next to where the owner slept. What luxurious security in 1915! We're busy preparing some basic interpretive signage, funded in part with a grant from History Colorado – State Historical Fund, and additional support from our wonderful community. We'll be able to share design plans in this coming summer, and plan to have the completed signage installed by spring of 2019.
There's lots planned at the Cottage Camp site, but so very much has already been accomplished – purchase of land, moving the historic one-of-a-kind Cottage Court to prevent its demolition, Master Planning for the site, restoration of the roof, placement of the Court on its first-ever permanent foundation, restoration of the entire Cottage Court to its 1915-1930s condition, interpretive signs at the entrance and Cairns #3 Ditch remnant, beginning development of exhibits, ADA accessible pathways, a rehabilitated Model A display and more.
We'll try hard to keep you apprised of every step along the way to making the Smith Eslick Cottage Camp an exciting and significant historical asset for our community, and THANK YOU to all who are participating in planning and to all who have donated to make this possible!
Grand Lake and the Smith Eslick Cottage Court were featured in Colorado Experience:  Mountain Escapes shown on PBS February 1st. You can still watch the entire show online: http://www.rmpbs.org/coloradoexperience/home/  Don't miss this! We're excited and proud to have been part of this very interesting documentary presentation.
Sandia Bruton has joined the GLAHS Board of Directors. "Sandy" is a longtime community member who was a docent at the Kauffman House with Patience Kemp and is again, with husband Bill. Sandia has a deep love of our community and its history, and we are thrilled to have her on our hard working board!
We'd Love to Share…
We have a lot of wonderful history stories to tell. If you are part of a group that would like to have us present in PowerPoint or other format… subject of your choice, or one we have already prepared…give us a call or jot an email note. Having a party at your home? Call us! Need a topic for your organization's meeting? Call us! Hope to hear from you!
A copy of the 2016 Annual Report can be read by clicking 
Complete Annual Report Text, 2016
Making it New Again
Spring Forward
Snow or no snow, it's a very busy spring at the Kauffman House and Smith Eslick Cottage Camp.
 Kathy Means and her team are working to install a variety of exhibits in the Gallery area of the Kauffman House Museum. Kathy's calling it all "A Walk Back in Time", and it will feature some early history.   
We would so very much welcome YOU as a docent guide at the museum! Just takes a few hours of your time and you will be supporting your community and having fun while you do it! Give us a call at 970/627-8324 and leave a message, or email historygrandlake@gmail.com.
What is this??!
It was the El Navajo Lodge, a prominent accommodation for travelers back in the day.
Stop by the Smith Eslick Cottage Court when you have a chance. It's in process of being restored by Maple Street Builders, Architect Dennis Humphries and the Historical Society team.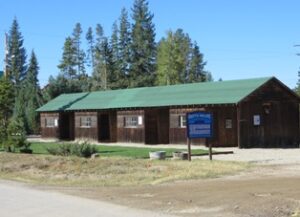 Clyde Eslick loved his cars, and apparently really enjoyed driving them! The Middle Park Times newspaper reported on many of his auto adventures… big news back then:
May 31, 1918   Middle Park Times: Through J.P.Schulz, the Eslick boys have purchased a Ford runabout.
Grand Lake Items: George Nair and Clyde Eslick returned from Denver Saturday.
Grand Lake News: Mrs. Georgia Eslick and son, Mr. Clyde Eslick, and little Hazel Masterson, went to  Denver and Fort Collins Wednesday and returned home Sunday.
Grand Lake News: Mrs. Susan Johnston made a trip to Denver with Clyde Eslick during the week.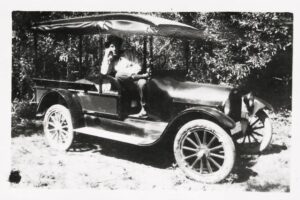 Please give us a call if you'd like more information and, again, we would be very grateful for your help with this project. GLAHS-Cottage Court, P.O. Box 656, Grand Lake 80447
We'll look for you at upcoming Cottage Camp events so we can introduce you to the crowd!
Please give us a call if you'd like more information and, again, we would be very grateful for your help with this project. GLAHS-Cottage Court, P.O. Box 656, Grand Lake 80447
A Quick Reminder
The new email address for the GLAHS is historygrandlake@gmail.com. We can no longer receive emails at our old address, glhistory@rkymtnhi.com, so please don't try to contact us there!
It's official…
Anne McCleave,State Historical Fund Preservation Specialist for the Northwest Region, has delivered a lovely brass plaque showing that the Smith Eslick Cottage Court is listed on the National Register of Historic Places.  Here are a happy Jim Cervenka, Historical Society President, with Elin Capps and Anne. We'll soon attach the plaque, and are of course continuing the restoration of the Cottage Court.
Your Historical Society often receives donations that seem a bit unusual, but always have an interesting story to tell. Here's a couple of recent additions!
If Only a Building Could Talk…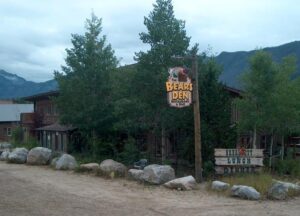 Some years ago, Mac Ruske and Martha Boehner shared what they remembered about the building in this photo. Mac said his shift boss on the Adams Tunnel project was Swede Sandstrom. When he and his wife Adele divorced, Adele and her friend Vannie Maker logged and built (with some unknown helpers) Adele's home, shown in the photo. Mac said they used a lot of free stuff. Martha said it was later sold to Jo Anne (McLaren) Warner, wife of Jim Warner, son Tom, and continued as a home. At sometime, Martha said, it became a furniture store operated by the Clarks and their daughter Carol.
Then in 1965 it sold to Mr. and Mrs. Patty who operated it as the Patty's Mountain Inn. Mac remembered Lynn Cox and her son Kevin telling him that fried chicken "the size of turkeys" were on the menu. Mr. Patty had a wind-up toy collection that he liked to line up parade style and send out to entertain. Kevin thought the best part were the wind-up, clacking dentures.
Then in 1981 it was sold to Dave McDougal, and operated as Dougal's Mountain Inn. "Dougal" hosted the town's first trivia contest as part of the Winter Carnival activities in about 1985, and would hire energetic young Pine Cone Theater actors as waiters. When Dave McDougal went to Denver and opened Dougal's Catering, the restaurant was sold to Michelle Marcello, and operated as the Mountain Inn. Later, it sold to Benton and Vickie Johnson, and was operated as Bear's Den.
With all these years of history, there must have been so many more stories to tell, if only the building could talk…
Meanwhile…
Does anyone remember this "Grand County –opoly" game, a "real estate trading game" that teased you could "own your own home town"? The GLAHS collection's copy belonged to Hazel Mosely.  Every "property card" is an ad for a local business. Perhaps you can figure out the game's exact publication date by remembering when the businesses were active in town. Take a look at the game board, and let us know what you remember about those places!
Please Join Us…
Your Grand Lake Area Historical Society needs you! We are a productive, exciting, very, very busy group of volunteers with so, so much to do! If you can spend a little time and lend us a hand, we'd be most grateful. We're especially needing folks who can handle small building maintenance stuff, or folks to help in our crazy-busy office scanning pictures or recording historical information at the computer. How about learning how to update a web page? Would you be interested in helping us "tweet" or "snap-chat" or otherwise update our social media presence?  We'll offer training with any task you choose, and we're eager to hear your ideas about what would be good for the team. Give us a call at 970/627-8324 or jet us a return e-mail. Thanks!
… and Just 'Cause It's Pretty
Photo from GLAHS Board member Steve Batty: Fall sunrise seen from Point Park
What a Makeover!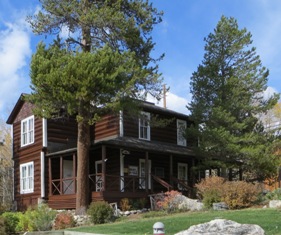 The Kauffman House Museum has received a lovely exterior restoration, with log damage repaired or replaced, all the icky chinking between logs removed and replaced with authentic and substantial new daub, and a fresh coat of stain to make it glow. Huge thanks to the Colorado State Historical Fund/History Colorado for funding and patiently guiding us through this all-important project, and to everyone who donated grant matching funds. Thanks too to the crew: Dan Schneller/DSD Construction for log repair, Wes Bishop/Stonehinge Masonry for chinking, and Jim Peterson/Grand Design Painting for the lovely stain work.   The trim has been painted during the summer of 2016 by Jim Peterson.